Welcome to Anderson School District 2 Nutrition Services
We are Working Hard to Continue Feeding All of our Students!
COVID-19 has had a tremendous impact on everyone! Not only has it impacted how we are educating our students, it has also impacted how we are safely feeding our students. The Nutrition Services staff are following all Safety Guidelines when preparing meals. All staff are wearing face masks and are continuing to follow proper hand washing and glove changes. Students will practice social distancing in the cafeteria serving lines and only the Nutrition Services Staff will be preparing and serving the meals. Any staff exhibiting any of the COVID-19 systems are not permitted to work.
Obtaining many of our student favorites to serve is proving to be challenging! You may have also witnessed the same while shopping for your families. Many of the products that you used in the past may be difficult to find, requiring you to select an alternate item until your favorite is once again available.
Meal service in each school is school specific, dependent upon the size of the cafeteria. Many of our students will rotate between eating in the cafeteria and their classrooms. Our K-8 students will be able to choose between one hot lunch option with the choice between four fruit/vegetable sides, or one pre-packaged Grab'N Go Complete Meal.
We encourage parents to use the on-line payment system, My School Bucks, to place money on student meal accounts. The Meal Benefit Application is also available on line for easy completion and submittal.
We also plan to offer meal service for our Virtual Students, beginning in September. More information to come!!
Our goal is to provide healthy meals that our students will enjoy, and come back for more!
We know that an empty stomach makes paying attention and learning difficult. With the support of parents and teachers, we can serve every student breakfast. A variety of breakfast foods are offered for our Elementary students, to match a variety of food preferences. Breakfast in the Classroom will be served in both of our Middle Schools as well as at Belton-Honea Path High. Students will have the opportunity to sign up for breakfast each morning, as soon as they arrive to the classroom.
ALL Students may enjoy a complete breakfast and lunch at NO Charge!
Please take a few minutes and enjoy our website. We believe you will find a variety of resources for students, parents, and teachers.
The USDA has extended the Summer Meals Program to allow all students under the age of 18 the opportunity to receive free breakfast and lunch meals up until June 2021.
The extended Summer Meals Program will allow all students under the age of 18 the opportunity to enjoy both a breakfast and lunch at no charge. This will include students attending school as well as those participating in virtual school. Students attending school will continue to select their daily menu choice from the menus which are posted on the District Website.
Virtual students may request five days of breakfast and lunch meals, which will be reserved for pick up on a weekly basis. Meals will be available every Monday between 9:30am – 10:30am at each District School. Meals will consist of a variety of foods that will not require extensive cooking, yet will require refrigeration. All meals will continue to meet the USDA guidelines.
Families with multiple children, 18 and under, may select one school to pick up meals for all students. Prior to meal pickup, families are requested to complete the on-line meal pick up form for each student and indicate the site for which the meals will be picked up, as well as the number of meals. Completion of the on-line form will ensure adequate meals are prepared and ready for pick up. When making meal selections, please indicate if milk is requested as part of the meal.
Virtual meals may be requested by completing the Virtual Meal Request Form, located on the District Website.
Anderson 2 will not be able to honor food allergies with Virtual Meals. Meals will be served as a unit, containing all meal components, other than milk. If you are picking up multiple meals and have a child with an airborne peanut allergy, please alert the Cafeteria Manager prior to meal pickup. When receiving meals, please carefully check each meal bag and remove any meal components that may be a food allergen.
We invite our students who prefer to bring their lunch from home, to select at no charge, at least 3 different meal components from the serving line to go along with their lunch...at no charge! Many of our students purchase milk and juice to go along with their lunch, yet if three items are selected, there is no charge! Less than 3 items may be purchased a la cart.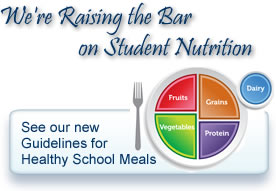 Meals, foods and beverages sold in the cafeterias meet all of the state and federal requirements which are based on the USDA Dietary Guidelines. Special sales items meet the nutrition standards for foods as established by the USDA, as part of the Healthy, Hunger-Free Kids Act of 2010, Smart Snacks Guidelines.