What's New
Pandemic EBT
More than 34 states have been approved for P-EBT, which provides families with additional funds for purchasing food while school is closed. These funds are in addition to meals provided through emergency meal services. In California, schools may help spread the word by educating families about the following:
Children are eligible for P-EBT if their school is closed and they:

attend a Provision 2 or CEP school, or
are Directly Certified for free and reduced-price meals, or
are otherwise eligible for free and reduced-price meals.

If eligible families have not received a P-EBT card in the mail they can apply online https://ca.p-ebt.org/en/ between now and June 30. No paperwork is required.
Learn more about P-EBT with this helpful handout from SD Hunger Coalition.

This program, called P-EBT, is for students who are normally able to get free or reduced price school meals. Apply and get up to $365 per child to spend on groceries. Children may continue to receive "grab n go" meals or emergency food at COVID-19 emergency feeding sites offered by schools and community locations, even if they are receiving P-EBT benefits.

Questions about P-EBT? Learn more about this program. With a P-EBT card you can buy groceries:

At most grocery stores
At most farmer's markets
Online at Amazon and Walmart

Learn more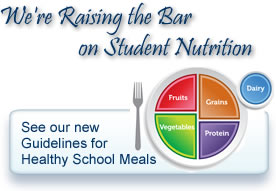 To learn more about National Nutrition Month, visit the ADA's website, eatright.org. While you're there, you'll find lots of cool tools including a BMI Calculator, nutrition videos and articles, and diet book reviews.
Nutrition Information for Parents:
The Healthy, Hunger-Free Kids Act of 2010 directed the U.S. Department of Agriculture to set new nutrition standards for all food served in schools starting in July 2012. The rules apply to school meals; regulations for other foods such as those served in à la carte lines, vending machines and stores will come later. The changes are designed to improve the health of nearly 32 million children who eat lunch at school every day and almost 11 million who eat breakfast.
Standards for school lunch:
•Establish maximum calorie and sodium limits for meals. The sodium limits are phased in over 10 years.
•Require schools to serve a fruit and vegetable every day at lunch and in larger portions than offered before. Portion sizes vary by age group. For instance, high school students will have to be offered one cup of vegetables and one cup of fruit a day. Right now they have to be offered a total of three-quarters cup of fruit and vegetables combined.
•Require schools to offer a minimum number of leafy green vegetables, red-orange vegetables, starchy vegetables and legumes each week. The amount varies by age group. For example, high school students have to be offered at least a half-cup of green leafy vegetables a week.
•Require that after the two years of implementation, all grains offered to students must be rich in whole grains such as brown rice. Breads, buns, cereals and pastas must list whole grain as the first ingredient. •Require milk to be either low-fat (1%) or fat-free. (already in effect.) Flavored milk, such as chocolate, must now be fat-free.
•Require that foods that are served contain no trans fats. The new standards for lunch take effect in this next school year. Changes for breakfast will be phased in over the next 2 years.
Orange Unified is an equal opportunity employer
Source: U.S. Department of Agriculture
To learn more about National Nutrition Month, visit the ADA's website, eatright.org. While you're there, you'll find lots of cool tools including a BMI Calculator, nutrition videos and articles, and diet book reviews. http://letsmove.gov/ http://www.raisehealthyeaters.com/2009/12/how-to-create-lasting-behavior-change/
http://www.eatright.org