Menus
Want to know what's for breakfast or lunch? Check out our interactive menus below!
All foods and beverages served at school meet state and federal requirements based on the USDA Dietary Guidelines. We proudly serve:
100 % whole grain-rich items

Fresh, seasonal fruits and vegetables

Farm-to-School produce

Low-fat and fat-free milk

100% fruit and/or vegetable juices
Should on-campus learning resume, free Breakfast and Lunch will be offered at Community Eligibility Provision Schools!
The Community Eligibility Provision allows ALL students at the following schools to eat breakfast and lunch at NO COST.
Carmel Elementary

Cottonwood Elementary

Eucalyptus Elementary

Joshua Circle Elementary

Juniper Elementary

Kingston Elementary

Lime St. Elementary

Maple Elementary

Mesa Grande Elementary

Topaz Preparatory

Hesperia Junior High

Ranchero Middle School

Canyon Ridge High School

Hesperia High School

Mojave High School
Students attending the above listed schools will NOT need to complete Meal Applications for the 2020-2021 school year. Households will need to complete an income survey to keep this program. If you have multiple students in your household and any attend a school other than the ones above, you will need to complete a Meal Application.
If you would like more information regarding the Community Eligibility Provision, please visit the USDA website.
_______________________________________________________________________________


Click the buttons below to view our school menus or choose from the list below
GRAB & GO
DRIVE-THRU
ELEMENTARY SCHOOLS
MIDDLE SCHOOLS
HIGH SCHOOLS
ALTERNATIVE
HIGH SCHOOLS
Did you know? You can also access our menus on your phone or via email!
"Web Menus" Mobile App: Download the free "Web Menus" app available at the App Store or Google Play to easily see menus on your phone.
Sign Up for Our Email Newsletter: You can sign up for our "Going Green! Menus" to have the menus delivered to your email every month. Sign up here.

NUTRITIONAL INFO

DISCLAIMER: Please be aware that any nutritional and allergen information provided is based on information from manufacturers and school-based recipes. Ingredients and menu items are subject to change or substitution without notice.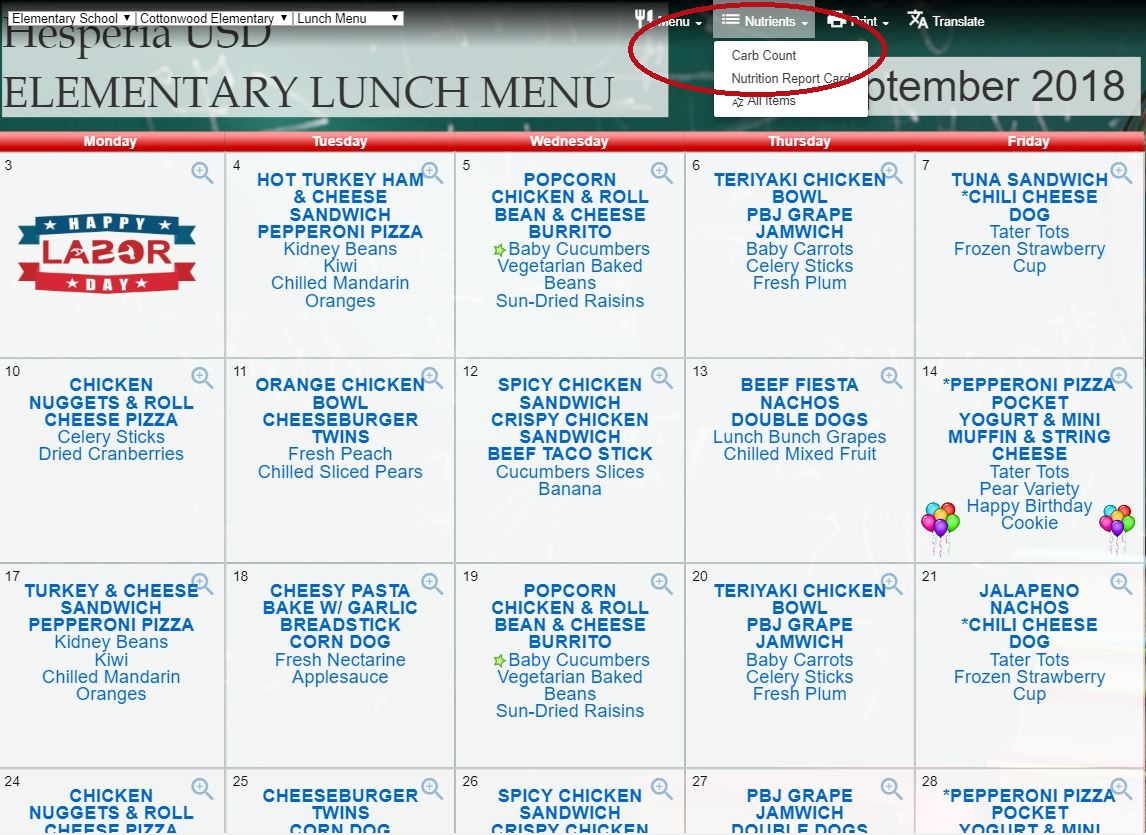 Nutritional information can be easily accessed by clicking the magnifying glass on our interactive menus.
Allergens may be seen by hovering over a menu item.

Carb Counts can be conveniently calculated by clicking the Carb Count button found on the top of our interactive menus and selecting what items will be eaten. Carb counts are based off a single serving so be mindful of how much a student is actually consuming, especially at the salad bars where students serve themselves.
PDFs of the Nutrition Info can be downloaded from the list at the bottom of this page.
Click arrows to scroll through months

Grab and Go

Elementary School

Middle School

High School

Alternative High School

Nutrition Info

Grab and Go Breakfast Nutrition Info.pdf
Grab and Go Elementary Lunch Nutrition Info.pdf
Grab and Go Secondary Lunch Nutrition Info.pdf
Grab and Go Super Snack Nutrition Info.pdf