Menus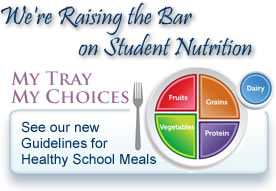 Printable menus are now available on
(www.SchoolCafe.com/LibertyPS)
Meals, foods and beverages sold or served at schools meet state and federal requirements based on the USDA Dietary Guidelines. All meals, foods and beverages are prepared and served by qualified child nutrition professionals.
We provide students with access to a variety of affordable and appealing foods that meet the health and nutrition needs of students.
A la carte is offered daily. Elementary choices include water, orange juice, milk in cartons, PBJ Uncrustable, various snack items, and extra entree. A la carte prices range from $0.50 to $3.50. A la carte purchases can always be limited or blocked through the student meal account.
We are thinking GREEN and SUSTAINABLE! Menus are available by email by signing up on our website and are updated monthly. Go to the "Going Green Menus" icon at the top right and sign up to have our menus emailed to you automatically each month, along with our SuperKids Nutrition Newsletters!
Menus are subject to change due to product availability