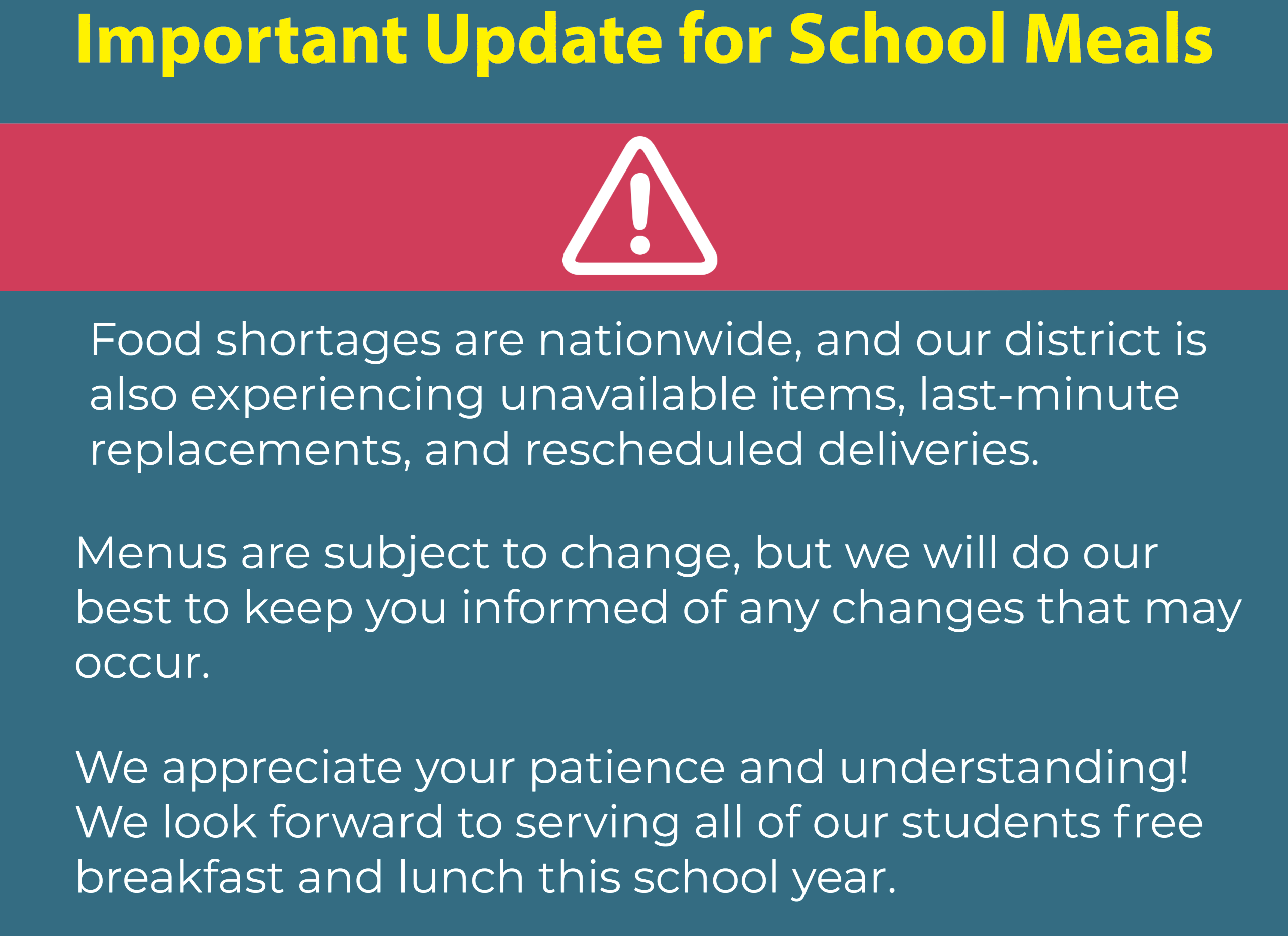 Click here for Menus
Meals, foods and beverages sold or served at schools meet state and federal requirements based on the USDA Dietary Guidelines. All meals, foods and beverages are prepared and served by qualified child nutrition professionals. We provide students with access to a variety of affordable and appealing foods that meet the health and nutrition needs of students.
Meal Prices
2021-2022
| | | |
| --- | --- | --- |
| Students | Breakfast | "Five Star" Lunch |
| Elementary | FREE | FREE |
| Middle & High | FREE | FREE |
| Reduced Price | FREE | FREE |
| Guests/Adults/Second Meals | $2.50 | $4.60 |
| Milk | .60¢ | .60¢ |
Special Diet Concerns: If your child has a medical condition requiring dietary restrictions, please complete a Modified Meal Request Form. Forms must be completed by a licensed physician based on the child's clinical diagnosis and medical condition which requires dietary modifications. Special Diet Request Forms must be updated at the beginning of each new school year.
Students with Lactose Intolerance or a Non-Life Threatening Milk Allergy can request a substitute by completing a Fluid-Milk Substitute Request Form.
Forms must be signed and submitted to the school nurse, who will forward it to the school's Food & Nutrition Manager. Meal pricing is not affected by dietary modifications.
Cross Contamination: is a complicated issue for all students with allergies. We are able to identify allergens in foods, but unable to guarantee prevention of cross-contamination from possible allergens. Some products may come into contact with possible allergens in manufacturing plants, distribution centers, or our Food & Nutrition Services Department.
Food & Nutrition Services would love for all students to be able to enjoy school lunch, but again are unable to guarantee prevention of cross-contamination.
Food Preferences: Food & Nutrition Services is not required to make modifications to meals based on food choices of a family or child. In most cases, the student can be accommodated at meal time as a variety of nutritious foods are available for them to choose from allowing the student to create and build a meal meeting their personal preferences. In addition, the "offer versus serve" provision which allows students the option to decline one or two foods in the normal (reimbursable) school meal may be of assistance in accommodating an individual's particular diet.
Menus