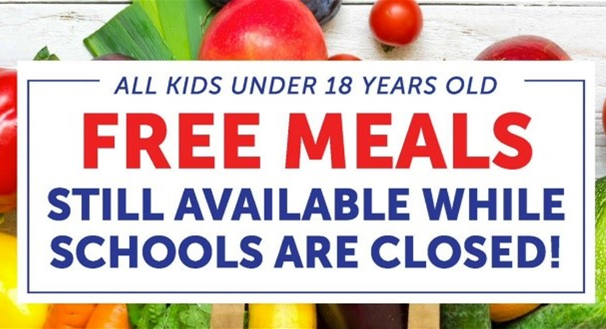 Free Meals for Children ages 1 - 18 at all school sites continues, so please join us for our Summer Programs
Curb-Side Pickup by Students or Parents/Guardians
June 7 - August 6, 2021
Schilling Elementary School
3901 Spruce Street
12:15 PM to 1:15 PM
Monday - Friday
June 7 - August 6, 2021
Silliman Center
6800 Mowry Ave
12:00 PM to 1:00
PM Monday - Friday
June 14 – July 9, 2021
Musick Elementary School
3735 Musick Ave
12:15 PM to 1:15 PM
Monday - Friday
June 14 – July 9, 2021
Newark Memorial
39375 Cedar Blvd
12:15 PM to 1:15 PM
Monday - Friday
June 21 – July 30, 2021
Ash Street Park
37365 Ash Street
12:00 PM to 1:00 PM
Monday – Friday
June 21 – July 29, 2021
Mayhews Landing Park
36270 Cherry Street
11:30 AM to 12:30 PM
Monday - Thursday
Welcome to Child Nutrition Services!
You can pick up free meals for your students at every school!!!
Meals will be served 11:15 AM - 12:30 PM, Monday - Friday
Free Meals for Children Ages 1 - 18, at all school sites so join us
This will continue until June 2, 2021!!!
Birch Grove Primary Taste Testing
Birch Grove Primary Bulldogs had a taste testing for kids to try some new items that might be coming to the elementary menus soon!
Pasta is the New Thing @
Newark Memorial High School
Yesterday, students and staff got an exciting treat with another great new item:
Chicken Alfredo in a Bread Bowl!
What will we come up with next?
Torta Monday @
Newark Memorial High School
NMHS Principal Ms. Rangel enjoys her personal Torta!
Every Monday at Newark Memorial, our kitchen staff is out cooking up fresh and exciting new Carne Asada Tortas, allowing students to choose their own toppings, and Horchata!
The options for toppings include Fresh Made Pico de Gallo, Green and Red Salsa, Sour Cream and Fresh-Cut Limes.
Taco Tuesday @ Newark Junior High School

The options at both schools for toppings include Fresh Made Pico de Gallo, Green and Red Salsa, Sour Cream and Fresh-Cut Limes.
IF YOU ARE REGISTERING FOR THE 2020-2021 SCHOOL YEAR:
APPLICATIONS ARE AVAILABLE NOW
2020-2021 School Year Free/Reduced Applications
Newark Unified School District is pleased to announce the availability of applying for Free and Reduced Price Meals ONLINE, for the 2020-2021 school year! The process is SAFE, SECURE, PRIVATE, and AVAILABLE anytime, anywhere!
If your student is not currently enrolled in Newark Unified School District, we will not be able to process your application, so please make sure you have completed the enrollment of your student(s) before applying, as this will delay completion of the application.
No paper application required if you apply online. I encourage you to fill your application out online, which will save you time by allowing you to fill it out whenever is convenient for you, and not having to pick up a paper application. If you would prefer to apply in person, you are more than welcome to pick up a paper application at your student's school office, or at the Child Nutrition Office located at 37370 Birch St.
Please be aware that we are not able to use the application from the 2017-2018 school year, due to changes in the requested information. Families who qualified for our Free or Reduced Program in the 2017-2018 school year, will only be able to continue in the program for the first 30 days of the school year. You will need to fill out a new application for your student(s) to continue with these services for the new school year.
If you have any questions, please contact the Child Nutrition Services Department at (510) 818-4281.

Good nutrition and learning go hand in hand.

The Child Nutrition Services Department recognizes the connection between a healthy diet and a student's ability to learn. Students who make nutritious food choices give themselves an edge for optimal mental and physical performance. Our Child Nutrition staff takes a great deal of pride in the quality of the meals they prepare.
Nutritional information on any foods served can be obtained by calling the Child Nutrition Services Department.
IMPORTANT INFORMATION TO KNOW . . .

The Newark Unified School District participates in the National School Lunch and Breakfast Program. To comply with Federal guidelines, all food must be prepared and stored properly and menus must be analyzed to ensure students are receiving the prescribed amounts of calories, fat, fiber, and nutrients.
All food products and recipes are analyzed. Recipes are modified to reduce the fat and sodium, animal protein is decreased and whole grains and pasta are increased. Computers have been installed in all our cafeterias.
Each student has issued a Student Identification Card. Each card is printed with the student's name, homeroom, grade, and a bar code representing the student's I.D. number. Computers enable the CND to maintain the confidentiality of students' eligibility for free or reduced-price meals as required by the Federal guidelines and to track student meals and sales. Personal checks for a minimum of 10 lunches are accepted for meal payments. A $25 service fee is charged for all checks returned. Prepayments decrease the time students must wait in the lunch line to be served.
As part of the National School Lunch and School Breakfast Program, NUSD provides free and reduced-price meals for children who meet the eligibility criteria. A new application must be submitted each school year. Applications for free or reduced meals are available in each school office and the Child Nutrition Office, which is located at 37370 Birch St., Newark CA, 94560.