Pre-Payment Options
Please take advantage of the options to prepay your student's meal accounts. Prepaid meal accounts help the lunch lines move faster giving students more time to eat, relax, and play. It also gives you the peace of mind of not having to worry about looking for lunch money every day or worry that it might get lost, stolen or used for other things other than lunch.
Pre-paid Point of Sale (POS) Account Info
The Food Service Department has a computerized POS system that allows students to participate in a prepaid debit system for all lunches and snacks. This system is NOT a charge account; students MUST have money in their account or pay with cash.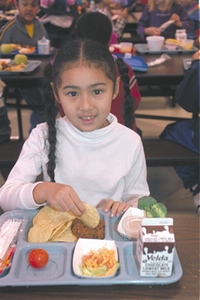 Prepayments (cash or paper check) may be mailed directly to school or sent with your child and given to the cashier at lunch time. Checks should be made payable to Webster Food Service. If you have more than 1 child at a school, please include a note that explains how much money goes into each account. If siblings attend different schools, a separate check must be written for each student. Prepayments may also be made on-line by clicking this link and setting up an account for your household.
Cashiers accept cash at the registers, but students are encouraged to use the pre-paid system to avoid lost money and expedite lunch lines. Even if your child only buys milk or snacks a few times a week it is much easier to add as little as $5 into their account instead of handling money on a daily basis.
*Elementary students give their last name to the cashier as they go through the lunch line. *Secondary students input their personal 4 or 5 digit ID-PIN number at the key pad located at each cash register. *If your child only buys milk or snacks a couple times per week it would be much easier to put as little as $5.00 into their account and not use cash. *If your student qualifies for free or reduced price lunches, this information is securely contained within the system and the meal will be processed just as it is for all other students. We recommend that reduced price students use the prepaid system by sending in at least $5.00 to put on their account. *If your student has a food allergy, the school nurse will notify us with that information and a warning will appear on the cashier's screen for a review of the items on the student's meal tray. *Money left over in your child's account at the end of the school year will roll forward to the new year. If your student is graduating any positive or negative balances on the account is transferred to siblings if possible.
PLEASE NOTE: If you would like to restrict or limit purchases on your child's account for lunch or snacks please open the Cafeteria Snack Purchase Restriction Form below and send completed form to your child's school. Thank you!
Cafeteria Snack Restriction Form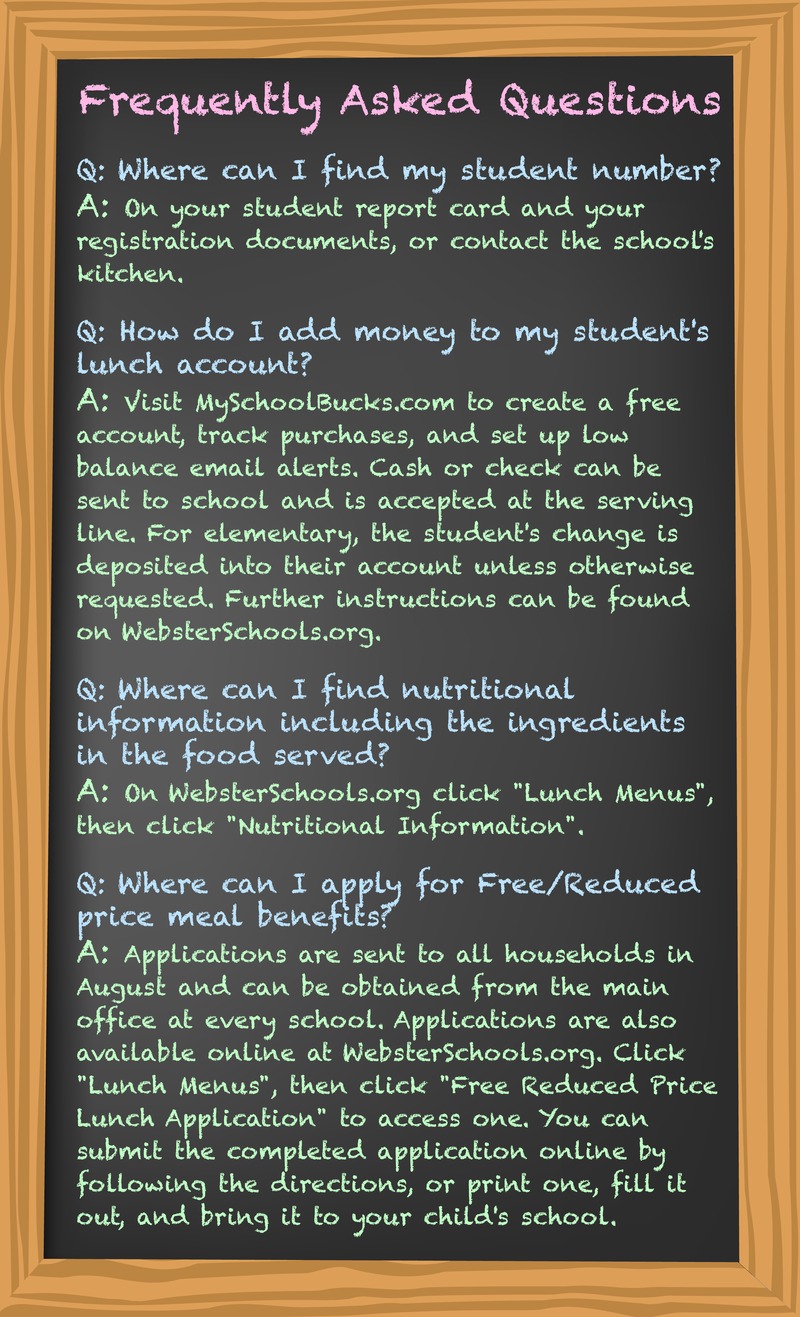 Online Payments
Online payments are a simple, safe and secure way to make payments to your students account 24 hours a day at your convenience.
MySchoolBucks.com - On Line Pre-Payment System
Dear Parents:
Webster School District's Food Service Department is excited to provide parents a convenient, easy and secure online prepayment service for your child's school meal account at any time.
With money in your child's account prior to entering the cafeteria, the lunch lines move much faster giving your child more time to eat and be with friends. This is all done through a web site called MySchoolBucks.com.
Important Things to Note About MySchoolBucks.com:
Webster School District does not receive any of the $2.49 transaction fee
Automatic deposit is available for when your child's account balance runs low
Extended purchase history for the past 90 days (Regardless of whether you pay on line)
Scheduled recurring payments
Low balance alerts
A moble app for MySchoolBucks is available by clicking here.
The convenience fee for cafeteria account deposits is $2.49, which covers all deposits made within a single transaction.
MySchoolBucks is increasing the convenience fee parents pay from $1.95 to $2.49 per transaction. You only pay the fee once even if you split the deposit among multiple children. This increase is effective

December 11, 2017

. This is the first time

in 13 years

this fee has been raised in Webster Schools and is a result of the credit card companies raising fees to MySchoolBucks.

You may fund up to $120 per child, but you may pay for all of your children on a single transaction.
MySchoolBucks has the following payment methods available for use:

Visa®
Mastercard®
Discover®
Electronic Check
You must allow 24-48 hours for the money to be in your child's account. (Often it is there within minutes but not always.)
If you choose not to take advantage of the online prepayment service you may continue to make advance payments via cashier of either cash or check. Please make checks payable to the Webster Food Service Dept. Write your child's full name on the check. If you have any questions about this service, please contact my office at 585-670-5104 or 585-670-5105.
To access these services & register for MySchoolBucks.com:
You need your child's student ID number. If you do not have this number, please call the Food Service Office @ 670-5104 and we will give it to you.
Go directly to www.MySchoolBucks.com
Click Register For A Free Account
Choose the state, NY
Choose the school district Webster Central School District.
Complete the information to add a new account
Add students to your family account-
When you log into www.MySchoolBucks.com please see the links on the left side of screen.
Click My Household
Click Add Student and enter the required information for each child.
How to Make a Deposit:
Please see the links on the left side of screen. Click My Household.
Click Make Payment
Follow the prompts to make a payment.
LOW BALANCE ALERTS: This is an email that is automatically sent to the email account you used to set up in your MySchoolBucks.com account.
-Check the box for email confirmation of payments.
-Check the box for email alerts of low balance and enter the amount.
(Note: Uncheck the box in June to stop email alerts during summer months but please switch it back to ON in the fall.)
Things to know:
a) Please write down your password in a safe location, if you forget your password you must contact support at MySchoolBucks.com as the district does NOT have access to this information for security reasons.
b) If you need additional help please contact the Webster CSD Food Service Department at 670-5104
Send Check or Cash
You can always bring money personally or send it with your student. Please place it in an envelope marked clearly with your student's name, their ID #, their teacher's name, the $ amount and the check #. Turn in prepaid deposits to the cafeteria cashier(s) or school office.


If you choose to bring money to school personally or send it with your student, please put it in an envelope clearly marked with the student's first and last name, their ID #, their teacher's name, and the amount enclosed.