Cañon City Nutritional Services
Let Us Know How We Are Doing!
Look What We Have Been Up To!
Canon City Nutrition Department has been very busy this year! Doing what you ask? Getting back to REAL FOOD by adding more scratch cooking to our menu's. From REAL mashed potatoes to proofing and baking our own breads and rolls. We invite you to come try some of our homemade items: Chili, Lasagna, BBQ Pulled Pork Sandwich, Pot Roast, Burritos, Cole Slaw, Pasta Salad, Breakfast Quiche and so much more! Just call ahead to your school nutrition department and let us know you are coming. Keep an eye on our menu as we add more and more each month.
Cañon City Schools Awarded for
SMARTER LUNCHROOM MOVEMENT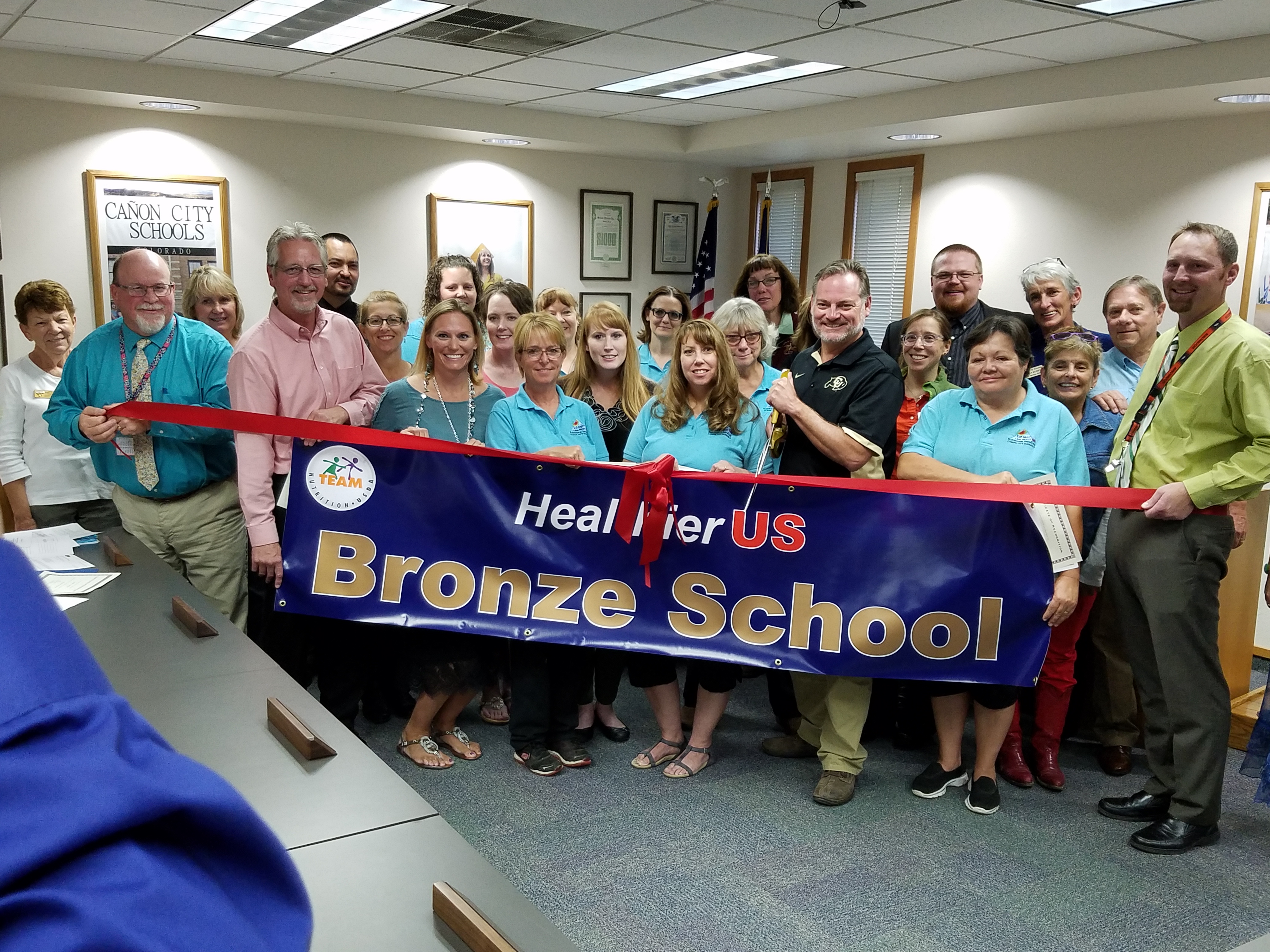 On September 26, 2016 Cañon City Schools were recognized by the Colorado Department of Education, Office of School Nutrition as one of the few districts in the state to earn the Healthier US School Challenge: SMARTER LUNCHROOM MOVEMENT BRONZE AWARD. This accomplishment includes a school banner, plaque, and monetary award for each winning school: CCHS, CCMS, CES, Lincoln, McKinley, Harrison and Washington. Power Panther is visiting the winning schools during lunch this week to remind students to "Eat Smart. Play Hard!" It's Not Nutrition... Until It's Eaten! Heather Hauswirth, RD and Program Specialist with CDE Office of School Nutrition stated Monday night at the RE-1 Board of Education meeting "The Colorado Department of Education Office of School Nutrition commends Cañon City School District. This award exemplifies the district's efforts to make changes to its nutrition environment, improve the quality of the foods served, provide students with quality nutrition education and enhance its physical education and activity program. The HUSSC: SL application truly requires the support and collaboration of the entire school community. It is evident that Cañon City embraces the Center for Disease Control's Whole School, Whole Community, Whole Child Educational Model."
Good nutrition and learning go hand in hand!
The Nutrition Services department is made up of a team of food and nutrition professionals that are dedicated to students' health, well being and their ability to learn. We support learning by promoting healthy habits for lifelong nutrition and fitness practices.
Meals, foods and beverages sold or served at schools meet state and federal requirements which are based on the USDA Dietary Guidelines. We provide students with access to a variety of affordable and appealing foods that meet the health and nutrition needs of students.
Canon City Schools provides almost 4,000 nutritious meals every day to students and staff. School meals are important to your child because they help develop sound nutritional habits by exposing students to a variety of foods. Our recent menu makeover has integrated many new recipes and food choices and provide healthful fruits and vegetables daily on our GARDEN BAR. Currently over 50% of our entrees are made from scratch with fresh ingredients. Our Live Right. Eat Right. campaign stems from the belief that the well-nourished student has better attendance, is more attentive and better behaved and has an increased energy level. All of these elements are tied to academic success.
..
With the continued emphasis on improving the student's ability to learn, the Canon City Schools Nutritional Services Department will continue to make a serious commitment to providing delicious and well-balanced meals for your children. Breakfast and lunch are offered daily at an affordable price.
..
Menus are designed to make the healthiest choice the easy one and provide choices preferred by our students while still meeting their nutritional needs. Students are encouraged to make wise choices and to try different foods.
..
Our department is comprised of caring people, most of them living here in our community. Please feel free to call the nutritional services supervisor in your child's school kitchen for assistance at any time.
..
Our website has been developed not only to better serve our community, but also to serve as an overview of our program. Whether you are searching for a particular menu or prices, programs and services, helpful contact information, or you are just checking to see what is new, you should be able to find it right here at your fingertips!
..
Nutritional Services
1030 S. 4th St.
Canon City, Co 81212
Ph: 719-276-5814
..


Of course, if you prefer to address your questions personally, please call Heather Williams, Nutrition Services Manager at 719-276-5813.
Balancing Calories
~
Enjoy your food, but eat less.
~
Avoid oversized portions.
Foods to Increase
~
Make half your plate fruits and vegetables.
~
Make at least half your grains whole grains.
~
Switch to fat-free or low-fat (1%) milk.
Foods to Reduce
~
Compare sodium in foods like soup, bread, and frozen meals... and choose the foods with lower numbers.
~
Drink water instead of sugary drinks.