Fresh Fruit and Vegetable Program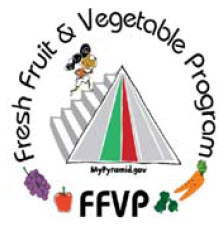 For the 2021-22 school year, ten elementary school sites have been awarded a Fresh Fruit and Vegetable Program (FFVP) Federal Grant. At FFVP schools, students receive 3-5 extra servings of fresh fruits and vegetables each week in addition to the produce served during breakfast, lunch, snack, and supper programs. The school sites awarded a FFVP grant for the 2021-22 school year are:
Beckman Elementary School
Clairmont Elementary School
Clyde W. Needham Elementary School
Creekside Elementary School
Davis Elementary School
George Washington Elementary School
Heritage Elementary School
Houston Elementary School
Lawrence Elementary School
Live Oak Elementary School
Oakwood Elementary School
Parklane Elementary School
Sutherland Elementary School
Victor Elementary School
Wagner-Holt Elementary School
Westwood Elementary School

With this funding we are able to offer our students fresh fruits and vegetables throughout their school days that does not include the regular breakfast, lunch or snack programs.
With the help of teachers, school nurses, parents and food service staff the funding will enable us to promote good health, nutrition and physical activity. We will be able to provide nutrition education, materials, needed equipment and staffing during their regular school days and special events.
The U.S. Department of Agriculture's Fresh Fruit and Vegetable Program (FFVP) is a federally funded grant for elementary schools. Awarded schools provide fresh fruit and vegetable snacks free of charge to all students and teach nutrition education during the school day.