Welcome to Food and Nutrition Services!
Our Mission: Ensure that every child achieves his or her maximum potential
Our Vision: Become the premier elementary school district in the nation
Our Values: Model for others what we expect from others
Every child, every school, every day
Best practice, not first practice
Learning has no boundaries
Celebrate success
Good nutrition and learning go hand in hand.

The Nutrition Services department is made up of a team of food and nutrition professionals that are dedicated to students' health, well being and their ability to learn. We support learning by promoting healthy habits for lifelong nutrition and fitness practices.

Meals, foods and beverages sold or served at schools meet state and federal requirements which are based on the USDA Dietary Guidelines. We provide students with access to a variety of affordable and appealing foods that meet the health and nutrition needs of students.

Prepaying your child's meal account helps keep the lunch line moving faster and gives your child more time to eat lunch!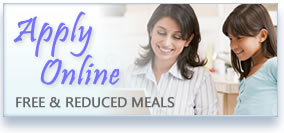 Apply online for Free and Reduced Meal Benefits for the most rapid processing of your family's application!