Welcome to Nutrition Services!
Good nutrition and learning go hand in hand!

The Nutritional Services Department operates the School Breakfast Program, the National School Lunch Program, the Fresh Fruit and Vegetable Program and the After-School Snack Program throughout the district, and is made up of a team of food and nutrition professionals that are dedicated to students' health, well being and their ability to learn.
We support learning by promoting healthy habits for lifelong nutrition and fitness practices.

Meals, foods and beverages sold or served at schools meet state and federal requirements which are based on the USDA Dietary Guidelines.
We provide students with access to a variety of affordable and appealing foods that meet the health and nutrition needs of students.
In order to qualify for free or reduced price meals, families must submit a meal application. A new meal application must be submitted each year in order to qualify for free or reduced price meals.

Meal applications are available at each school office and at the Nutritional Services Office at 801 N. Mooney Blvd. Please return them to your school site as soon as possible. To expedite processing of meal applications bring them directly to the Nutritional Services Office.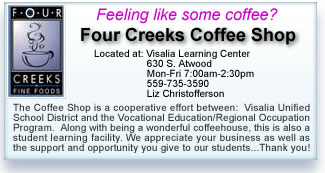 For questions regarding meal applications or your child's eligibility,
call the Nutritional Services Office at (559) 730-7871.