Welcome to EPS Child Nutrition!
Good nutrition and learning go hand in hand.

The Child Nutrition Department is made up of a team of food and nutrition professionals that are dedicated to students' health, well-being, and their ability to learn. We support learning by promoting healthy habits for lifelong nutrition and fitness practices.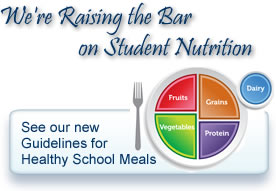 Meals, foods, and beverages sold or served at schools meet state and federal requirements which are based on the USDA Dietary Guidelines.
We provide students with access to a variety of affordable and appealing foods that meet the health and nutrition needs of students.

Mission Statement:
Our mission is to provide healthy meals that model healthy behavior
while contributing toward a healthy lifestyle.


Child Nutrition is kicking up the flavor this school year with some BIG changes in our menus and more daily choices. The recipes are healthier than ever with scratch-made, chef-inspired recipes.

Parents are invited to join their students for breakfast or lunch to taste the NEW kicked up flavors.

Some of the menu items you will see that are made from scratch include:
Hand-Breaded Chicken Breasts & Tenders
Baked Ziti
Chicken Burrito
And lots of fresh fruits and veggies

Breakfast at school

Any student eligible for free or reduced-priced meals can get free or reduced-priced breakfast.

The demands of today's fast-paced lifestyle may prevent some children from sitting down to a balanced breakfast each morning before heading to school. We have the solution to make the morning rush easier on everyone. Encourage your child to take advantage of a nutrient-rich School Breakfast to help them boost their brain power and increase their nutrition.

Kids who eat breakfast at school – closer to class and test-taking time:

o Perform better on tests than those who skip breakfast or eat breakfast at home.

o Increase their math and reading scores and improve their speed and memory in cognitive tests.

o Decrease behavior problems, tardiness and visits to the nurse.

o Improve attendance rates.

If you would like to read more about nutritious Meal Choices please go here.