WELCOME!
EDUCATING, EMPOWERING AND INSPIRING EXCELLENCE.......
The Portage Township School Food Service Department strives to

educate

students as well as their families about the National School Lunch Program nutrition requirements and how nutrition affects learning.
The Portage Township School Food Service Department

empowers

students through this education to make good choices when it comes to their meals and to understand that they have the ability to CHOOSE healthy options.
The Portage Township School Food Service Department

inspires excellence

by challenging students of all ages to embrace a healthy lifestyle and to recognize that there is an important connection between eating nutritious meals and increasing their ability to learn.
EMPLOYMENT OPPORTUNITIES AVAILABLE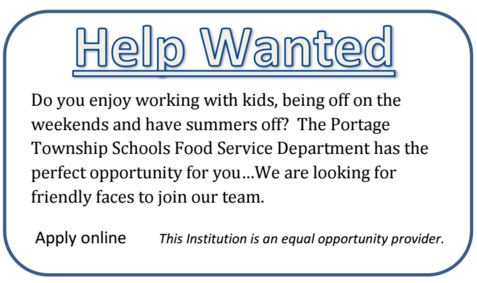 Click here to apply for employment with us online now!!!

_________________________________________



Make on-line payments (no fees) to your child's account through myschoolbucks.com
Please allow up to 48 hours for payments to post.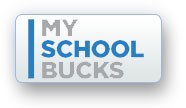 __________________________________________________

2016/2017 Free & Reduced Applications-
Apply Online
__________________________________________________

Meals, foods and beverages sold or served at schools meet state and
federal requirements which are based on the USDA Dietary Guidelines. We provide students with access to a variety of affordable and appealing foods that meet the health and nutrition needs of students.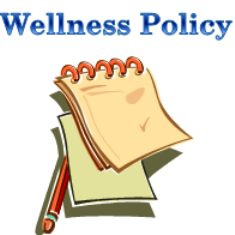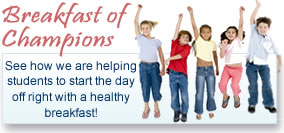 We Serve Breakfast for Champions
We offer breakfast at all twelve of our cafeterias. We like to help start the day right for high school to kindergarten students, with a nutritious and healthy breakfast. Breakfast is the most important meal of the day. Click to learn more about our Healthy Breakfasts.

FUN LUNCH FACTS - Did you know?
The National School Lunch Program Act was signed
into law in 1946.
1. Many young men applying for the military service were found to be malnourished.
2. An outlet was needed for agricultural commodities after World War II.
3. Studies showed that students performed better in the classroom with proper nourishment.