Pre-Payment Options
All Seymour Community School cafeterias utilize a pre-pay system designed to process student food purchases in an efficient, confidential manner, and to reduce the amount of cash on hand at each location. Parents may send payments in any amount at any time. Payments can be made 2 ways: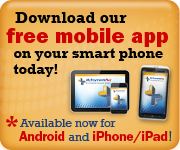 Online Payments with MyPaymentsPlus
To make online payments and to monitor your child's account, visit MyPaymentsPlus and set-up an account. You will need to know your child's student ID #. If you do not know your child's student ID#, call the Food Service Office at 812-271-1344 and we will be happy to assist you.
Online payments are a simple, safe and secure way to make payments to your students account 24 hours a day at your convenience. MyPaymentsPlus is also available as an app for your smart phone.
If you are having trouble with your online payments you can view the instruction manual. For Spanish speakers you can access the Spanish version here.

Send Cash or Check
Parents may send payments in any amount at any time using cash or check. Please send payments in an envelope with STUDENT NAME, STUDENT ID#, SCHOOL, and DEPOSIT AMOUNT marked on the outside of the envelope. You can send lunch money for multiple students in one envelope. For your convenience, you can download and print a Meal Deposit Envelope here.

Monitoring Your Child's Account


Even if you choose not to pay online, parents may monitor meal accounts by registering on MyPaymentsPlus The child's student ID number is needed for this service. Services offered include: account balance, monitoring purchases, signing up for low balance alerts, and making online payments. The same services can be accessed toll free at 866-684-4885.

Students' meal accounts, both positive and negative, stay with them at the end of the school year and if they change schools.

Requesting a Refund
Funds remaining in students' meal accounts at the end of each school year will automatically be applied to the account balance for the next school year. Only in the event that a student leaves the district (i.e. moves, graduates, etc.) may a refund of account balance be requested. A written request must be submitted within 30 days of the end of the school year or 30 days after the student leaves the district in order for the balance to be refunded.
Additional information and guidelines for refunds:
Money can be refunded or transferred to another account.

Account balances less than $10.00 can be transferred to another account but a refund will not be issued. Family accounts can be lumped together to meet this minimum.

Refunds or transfers of meal funds must be requested using the Request for Refund or Transfer Form.

Refunds will be processed within two (2) weeks upon receipt of the request. Payment in the form of a check will be issued to the person listed on the request. Refunds will be mailed to the address listed on the request form.

Account balances can be monitored at www.mypaymentsplus.com or by contacting the food service office at 812-271-1344.
All funds remaining in accounts after the above time limit will be used at the discretion of the school district.
Send Check or Cash
You can always bring money personally or send it with your student. Please place it in an envelope marked clearly with your student's name, their ID #, their teacher's name, the $ amount and the check #. Turn in prepaid deposits to the cafeteria cashier(s) or school office.


If you choose to bring money to school personally or send it with your student, please put it in an envelope clearly marked with the student's first and last name, their ID #, their teacher's name, and the amount enclosed.