Menus
Meals, foods and beverages sold or served at schools meet state and federal requirements based on the USDA Dietary Guidelines. All meals, foods and beverages are prepared and served by qualified child nutrition professionals. We provide students with access to a variety of affordable and appealing foods that meet the health and nutrition needs of students.
Stop by and check out our new, interactive menus!
You will find daily lunch specials as well as nutrition information for each product we serve.
Breakfast is Free to all Students!
Adult/Visiting Children: $2.25


Lunch Prices
Elementary Schools: $00.00
Middle and High Schools: $00.00
Adult/Visiting Children: $4.00
If you plan to enjoy breakfast or lunch with your child, please check in at the school's front office.
Free/Reduced Lunch Application Information
Under our current waiver, all students will eat free breakfast and lunch for the 2021-2022 school year. We are currently not accepting free/reduced lunch applications. We will resume accepting applications on June 30, 2022. If you need assistance, call Marie Beverley at 912-267-4100, ext. 1351.
Statement to Request Accommodations for Special Dietary Needs
If your student has a special dietary need, please see the form below. This form must be completed by the student's physician and submitted to the cafeteria manager at your students school before meal accommodations can be made.
2021-2022 Special Dietary Needs Form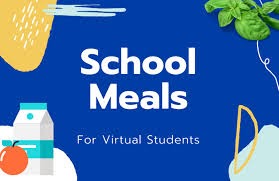 The Glynn County School Nutrition Department will be offering bulk meal packets for students enrolled as virtual learners during the 2021-2022 school year. Meals will be distributed every Thursday (5 breakfast meals & 5 lunch meals) from 10:30am-11:00am in the main office of the school where the student is enrolled. Parents must place orders online by noon every Monday using this google order form.

Meal Distribution for Virtual Learners will start on Thursday, August 19, 2021 and the final meal distribution service will be Thursday, May 19, 2022. We will follow the Glynn County School System calendar and meals will only be provided for standard operating school days.

If you have questions, please contact the Cafeteria Manager at your child's school.