Menus
About Our Lunches
A lunch consists of a meat or meat alternate, grain, fruit, vegetable and milk. A student may select all five items; however, they may choose a minimum of three of the five items, one of which must be a vegetable or fruit.
If the Food Service Department receives a note from your child's physician noting an allergy to dairy products, the note must indicate the necessity to substitute a juice for a milk. Otherwise, if not stated in the note, the child may get a drink from the water fountain or may purchase a non-dairy alternative drink through the cafeteria.
Whats for lunch?
View your child's Menus from the list below!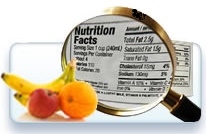 School Meal Prices
Full Pay Breakfast
Reduced Price Breakfast
Full Pay Lunch
Reduced Price Lunch
Elementary
$1.50
$.30
$2.50
$.40
Middle School/Jr. High/High School
$1.50
$.30
$2.75
$.40
Adult Meals
$2.25
$3.75
*Note: For Jr. High and High School, other meals are available at tiered pricing.
An additional entree can be purchased for an extra charge. Prices may vary.
This institution is an equal opportunity provider.
Click arrows to scroll through months

Nutritionals

Elementary Breakfast 18-19.pdf Elementary Breakfast Carb Counts.pdf Elementary Gluten Free Entree Options 1819.pdf Elementary Lunch Cycle Menu 1819.pdf Elementary Lunch Nurse Carb Counts 1819.pdf Fruit Nutrition Facts.pdf High School Breakfast Menu.pdf High School Breakfast Nutritional 18-19.pdf High School Lunch Carb counts1819.pdf High School Lunch Cycle Menu 1819.pdf Junior High Breakfast Carb Counts 18-19.pdf Junior High Breakfast Menu 1819.pdf Junior High Lunch Cycle Menu 1819.pdf Junior High Lunch Nurse Nutritional 18-19.pdf Middle Breakfast Carb Counts.pdf Middle Breakfast Menu 18-19.pdf Middle Lunch Menu 18-19.pdf Middle School Gluten Free Entree Options 1819.pdf Middle School Lunch Nurse Carb Counts 1819.pdf Plate Guide to School Breakfast.pdf Plate Guide to School Lunch.pdf Revised Elementary Middle Alternate meal Carb Count 2018-2019.pdf Vegetable Nutrition Facts.pdf