Welcome to Placer Union High School Nutrition Services!
Good nutrition and learning go hand in hand.
The Placer Union High School District Nutrition Services department is made up of a team of food and nutrition professionals that are dedicated to students' health, well being and their ability to learn. We support learning by promoting healthy habits for lifelong nutrition and fitness practices.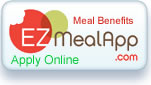 New! Now you can apply for Meal Benefits online with EZ MealApp.com. Our new online program is safe, secure and confidential.
Meals, foods and beverages sold or served at our schools meet state and federal requirements which are based on the USDA Dietary Guidelines. We provide students with access to a variety of affordable and appealing foods that meet the health and nutrition needs of students.
We take pride in all of the meals that we serve to our student's. All of our meals are trans fat free and we never deep fry. Offered daily are a variety of fresh fruits and vegetables, home made deli sandwiches and a variety of healthy pizzas. All of our bread and baked items are made with whole grains, no trans fats and lower sodium.
Our self serve soup and salad bars offer many choices for our students. On Tuesday's we offer a "build your own" taco bar.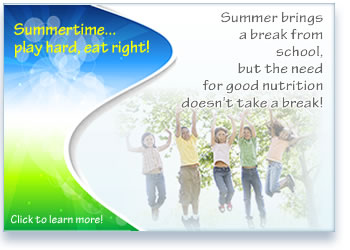 Free Meals Served during the Summer!
Join us again this year for a"free" lunch to all kids between the ages of 0-18 at Auburn District Regional Park in the parking lot near the sand volleyball courts. New this summer, we will have a BBQ with hamburgers and hot dogs every Wednesday. Bring all your friends for a picnic in the park!

Summertime is a time to play hard...but it is also a time to remember to eat right.

Make sure good nutrition remains a priority all summer long, and students will return to school in the Fall healthy, sharp and ready to learn.
Click the image to the left to learn more about our Summer Lunch Program and locations where lunches are served this Summer!
In addition to our wonderful school lunches all of our schools offer breakfast during the school year. Breakfast is said to be the most important meal of the day. Placer, Colfax and Del Oro all offer breakfast before school and at their nutrition break mid-morning. Chana and Forest Hill offer a nutrition break mid-morning. Student's have an array of breakfast items to choose from, all of which meet or exceed the USDA dietary guidelines.
2015-2016 Meal Prices
Breakfast $2.00 Reduced $.30
Lunch $3.50 Reduced $.40
Adults $4.00