Pre-Payment Options
Please take advantage of the options to prepay your student's meal accounts. Prepaid meal accounts help the lunch lines go faster and gives students more time to eat, relax, and play. It also gives you the peace of mind of not having to worry about looking for lunch money every day or worry that it might get lost, stolen or used for other things other than lunch.
Online Payments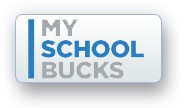 Online payments are a simple, safe and secure way to make payments to your students account 24 hours a day at your convenience.
Pay for school meals online with "MySchoolBucks.com". Easy-to-use, convenient, private and secure. Simply go to the website to enroll and to start using the site to deposit funds into your student's lunch account. Once your account is established, you can check balances or fund the account anytime from your home computer, phone, or fax. Your child's information is safe – it stays at school. Your personal and credit card information is protected by the most advanced internet security.

You will need your child's Student District ID Number, which can be found on your student's schedule, report card, or in Inifinite Campus Parent Portal. Parents may pre-pay by credit or debit card for student meals and ala carte items. Some of the benefits realized through participating in this system are:
Avoid low balances and borrowing money from the office.
Automatically add money to your account from your credit or debit card.
Set spending limits and meal controls.
View a 7 day history of meal purchases.
Please note: There is no fee for parents to set up an account and view a meal history. If parents wish to use myLunchMoney for pre-payment, there is a $1.95 per transaction fee. This charge is a processing fee on a per-site basis, so multiple charges may incur if you have students in different schools. The school district does not receive or profit from these fees.
Send Check or Cash

You can always bring money personally or send it with your student. Please place it in an envelope marked clearly with your student's name, their ID #, their teacher's name, the $ amount and the check #. Turn in prepaid deposits to the cafeteria cashier(s) or school office.

Download and Print Out a pre-formatted #10 Envelope for making Deposits

Please be aware that if your check is returned for non-sufficient funds (NSF) it will be turned over to Envision Payment Solutions™ for recovery. Envision Payment Solutions™ utilizes the federal and state laws allowing the electronic recovery of NSF checks. The cost of recovery becomes the responsibility of the one who writes the check. When a check is used as a payment, the check writer authorizes Envision Payment Solutions™ either to use information from the check to make a one-time electronic fund transfer from the check writer's account or to process the payment as a check transaction. The check writer also authorizes Envision Payment Solutions™ to collect a fee through an electronic fund transfer from the check writer's account if the payment is returned unpaid.
Questions regarding this procedure can be answered at 877-290-5460.