Welcome to Habersham County School Nutrition!
Good nutrition and learning go hand in hand.

The Nutrition Services department is made up of a team of food and nutrition professionals that are dedicated to students' health, well being and their ability to learn. We support learning by promoting healthy habits for lifelong nutrition and fitness practices.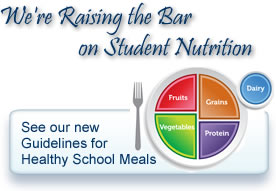 Meals, foods and beverages sold or served at schools meet state and federal requirements which are based on the USDA Dietary Guidelines. We provide students with access to a variety of affordable and appealing foods that meet the health and nutrition needs of students.
The Habersham County Schools nutrition program provides each student an opportunity to eat breakfast and lunch each day. The meals are affordable, nutritious, and served by school nutrition professionals who care about children. These meals contribute to a successful academic experience and encourage a lifetime of healthy eating. Each school's nutrition program has a manager who is involved in an on-going training program to include Training- In-Depth, which provides overall nutrition program management information, and ServSafe which focuses on sanitation and food safety.
Our menus this year are offering more fresh fruits and vegetables, with a greater variety through the week, more whole grains and lean protein. USDA has Each school year every student will have a variety of entree choices. There is something for every appetite.
School Nutrition Director, Andrea Thomas, and her staff focus on customer service, nutritious meals, and menu selection choices. School food service staff members want every child to learn and have a happy, rewarding school experience and their nutritious meals are a wonderful contribution to our efforts. We know from our own experience that children cannot focus on learning if they are hungry and our dedicated staff ensures that does not happen.