What's New
Online Free and Reduced Application! You will need your student's ID number in order to register. Then follow the prompts and get an instant determination!!!

FREE Breakfast for all students in our district continues! The kindergarten and elementary schools will pick up their breakfast in the cafeteria and eat in the classroom. The secondary schools will continue to serve breakfast in the cafeteria. The breakfast consists of a hot entree, a piece of fresh fruit, 100% fruit juice, and milk. Per federal guidelines, each student accepting a breakfast must take 3 of the 4 items being served. Students are not required to take a breakfast.
• Students are required to take 1/2 cup of fruit or vegetables with lunch for it to count as a school lunch. Anything less than a school lunch is charged at a la carte prices. We offer a large variety of fruits and vegetables daily to give the students more to select from.
• Half of all grains offered must be whole grain; almost all of our grains already meet this requirement.
• We must offer vegetables from the following groups each week: dark green, orange/red, and legumes. We then have the option to include starchy and other vegetables. We've limited starchy vegetables for the past 3 years and have been incorporating the other vegetable groups for 2 years. Currently, students are offered a cooked vegetable, salad, or fresh raw vegetable bowls at lunch. Fruit is also offered fresh and canned each day. Canned fruits are in juice or light syrup, never heavy syrup.
*Remember, by law a meal must include fruits or vegetables.*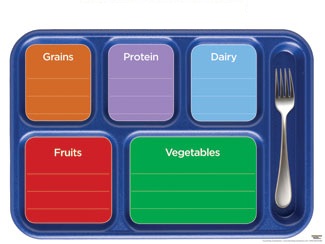 Here's the school lunch equation:
School lunch = minimum of three of the above items, one of which must be a fruit or vegetable.
Signs, just like the one pictured above,are posted in each cafeteria with the name of the corresponding food that is being served that day.
How You Can Help:
• Encourage your student to try new things at home and school.
• Encourage your student to take a fruit and/or vegetable at lunch.
• Make fruits and vegetables a consistent part of your student's diet.
• If you have questions or concerns, please feel free to contact Student Nutrition Services. Thank you!