Welcome to the Child Nutrition Program!
Good nutrition and learning go hand in hand.

The Child Nutrition Program is made up of a team of food and nutrition professionals that are dedicated to students' health, well being and their ability to learn. We support learning by promoting healthy habits for lifelong nutrition and fitness practices.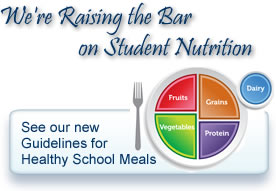 Meals, foods and beverages sold or served at schools meet state and federal requirements which are based on the USDA Dietary Guidelines.
We provide students with access to a variety of appealing foods that meet the health and nutrition needs of students.
Prevent Diabetes! Visit our Diabetes information site to empower yourself!
For all our Department forms go to the Menus section.
To view Mission CISD's School Nutrition Policy go to the More Nutrition Links section.
Modifications to school meals for children whose disabilities restrict their diets please have Physician fill out and sign a Special Dietary Order Form 2016-2017.
Mission CISD announces the sponsorship of the Summer Seamless Food Service Program. Meals will be provided at no charge to all children ages 1 to 18. Click here for a list of sites.