Welcome to Nutrition Services!
Good nutrition and learning go hand in hand.

The Nutrition Services department is made up of a team of food and nutrition professionals that are dedicated to students' health, well being and their ability to learn. We support learning by promoting healthy habits for lifelong nutrition and fitness practices.
Congratulations to our HealthierUS Challenge Gold Award Winners!
Liberal's own USD 480 led by Nutrition Services Director Connie Vogts and her team of talented nutrition professionals have captured the prestigiuous Gold Medal award for all the Schools listed below...Congratulations!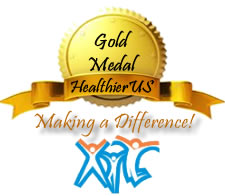 The following schools are making national news by working to support and improve the health of our children and our community. We were honored to have Darlene Barnes, Katrina Klatt and Wendy Moraskie from the USDA in attendance, State School Board member Sally Cauble and local school board members Reid Petty, Steve Helms, Cheryl Louderback, and Chris Jewell. Click here to see photos of our Award Ceremony.
USD #480: Liberal
Cottonwood Intermediate School (Gold)
Garfield Elementary School (Gold)
Lincoln Elementary School (Gold)
MacArthur Elementary School (Gold)
McDermott Elementary School (Gold)
McKinley Elementary School (Gold)
Southlawn Elementary School (Gold)
Sunflower Intermediate School (Gold) Click on the Gold Medal to learn more!
Washington Elementary School (Gold)
Meals, foods and beverages sold or served at schools meet state and federal requirements which are based on the USDA Dietary Guidelines. We provide students with access to a variety of affordable and appealing foods that meet the health and nutrition needs of students.