Welcome to Nutrition Services!
We know that good nutrition and learning go hand in hand!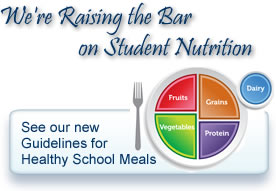 The Nutrition Services department is made up of a team of food and nutrition professionals that are dedicated to students' health, well being and their ability to learn.
We support learning by promoting healthy habits for lifelong nutrition and fitness practices. Food and beverages sold or served at school meet the nutrition recommendations of the U.S.D.A. Dietary Guidelines.
We provide students with access to a variety of affordable and appealing foods that meet the health and nutrition needs of students.
Our Mission:
The mission of Natomas Unified School District Food Services is to educate and to enable our food service staff to provide healthy meals to the students and the community which nurtures an environment where our guest achieve overall wellness and lifelong success.
____________________________________________________________________________

MySchoolBucks Lunch System

You may now make prepayments to your child's meal account at MySchoolBucks.com!
Learn how to get started making prepayments to your child's meal account at MySchoolBucks!
NOTE: If a parent was previously registered with MYNUTRIKIDS their account has been automatically converted and there is no need to create a new account. A returning user will complete the "access your account" and click the "log in" button.
Natomas News:
Check out the recent Conversation with USDA Leader Audrey Rowe addressing school nutrition and how families can maintain access to nutritious meals throughout the school year.
Here is the blog link: http://blogs.usda.gov/2016/08/03/a-conversation-with-usda-leader-audrey-rowe/
_______________________________________________________________
Click on the following tab to learn more about Special Meal Accommodations: