Welcome to Student Nutrition Services!
At Milpitas USD we know that good nutrition and learning go hand in hand!
The Nutrition Services department is made up of a team of food and nutrition professionals that are dedicated to students' health, well being and their ability to learn. We support learning by promoting healthy habits for lifelong nutrition and fitness practices.




Apply Online for Free & Reduced Meal Benefits here!

Meals, foods and beverages sold or served at schools meet states and federal requirements which are based on the USDA Dietary Guidelines. We provide students with access to a variety of affordable and appealing foods that meet the health and nutrition needs of students.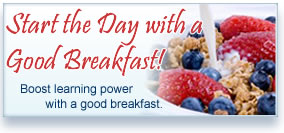 Please Check With Your Child's School Site for Breakfast Serving Time!
School Breakfast is Nutritious & Convenient!



Check out our Breakfast Menus, Nutrition Information, and more here...
---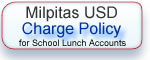 MUSD's Nutrition Services Department recognizes that students may forget their lunch money. We are aware of the importance of good nutrition to learning and are dedicated to providing students with nutritious meals. We have developed procedures to accommodate elementary students who forget their lunch money.
---


Find Special Meal Accommodation information here!