Welcome to the Grady County School Nutrition Program!
Summer Feeding 2017
We will hold Summer Feeding at Washington Middle School this summer from May 29th - June 30th. Everyone 18 and under can eat breakfast and lunch for FREE. We will serve breakfast from 7:30 to 8:30 AM and lunch will be served from 11:00 AM to 1:00 PM. Come join us and spread the word!
Good nutrition and learning go hand in hand.

The Nutrition Services department is made up of a team of food and nutrition professionals that are dedicated to students' health, well being and their ability to learn. We support learning by promoting healthy habits for lifelong nutrition and fitness practices.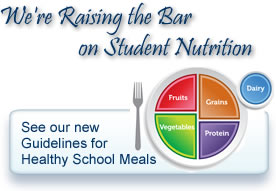 Meals, foods and beverages sold or served at schools meet state and federal requirements which are based on the USDA Dietary Guidelines.

We provide students with access to a variety of appealing foods that meet their health and nutrition needs.
Northside and Southside Elementary students will be enjoying a daily snack of a variety of fresh fruits and vegetables, during the 2016-2017 school year as a result of the USDA Fresh Fruit and Vegetable Grant.
Grady County School Nutrition is now accepting vendor applications for the following bids for SY 17-18: fire suppression, food & paper products, and pest control. Contact Mallory Barrett, School Nutrition Director, at 229-378-1233 or m.barrett@grady.k12.ga.us for more information.
________________________________________________________________________________
Visit our Georgia SNA- School Nutrtition Association website (www.georgiaschoolnutrition.com) to learn all about what we do to provide our students with nutritious School Meals! We are a group of Nutrition Professionals working hard to ensure our students enjoy nutritious meals in our schools!