Welcome to Nutrition Services!
At Long County Schools we know that good nutrition and learning go hand in hand.

About Us
The School Nutrition Department is headed by Mrs. Stephanie M. Fox. Mrs. Fox has over 33 years of food service experience with 13 years' experience in School Nutrition. Under her leadership she has one additional central office staff member. Rhonda McClelland is the School Nutrition Bookkeeper/Administrative Assistant and has been part of the Long County School System for 15 years with 7 years' experience in School Nutrition.
Click here to see our director, Mrs. Fox in the news!


Long County School System has 4 schools with approximately 3,498 students enrolled. The School Nutrition Program has 3 operating school cafeterias which employees over 30 food service personnel that takes pride in serving approximately 4,575 breakfast and lunch meals daily. All of our cafeteria managers are ServSafe Certified. Our School Nutrition Program participates in Special Assistance Provision II for breakfast where all breakfast meals are at NO COST to all students. Additionally, nutritious lunch meals are provided to all students at a price affordable to them.
The Long County School Nutrition Program is an extension of the educational programs in the schools which is operated under the federally funded National School Lunch Act and Child Nutrition Act. The School Nutrition Program makes its revenue by receiving federal reimbursement for eligible meals served to all students. Other revenue is received from those meals sold to students who are full or reduced paying students. The School Nutrition Program is self-supporting and does not receive monies from the local board of education's general funds. The Nutrition Services department is made up of a team of food and nutrition professionals that are dedicated to students' health, well being and their ability to learn. We support learning by promoting healthy habits for lifelong nutrition and fitness practices.
Our Goal
The primary goal of the School Nutrition Department is to provide all students, regardless of income level, healthy school meals that meet their nutritional needs. Long County Schools offer healthy meals every school day. Breakfast is at no cost to all students at 7:30 a.m. For lunch, students may choose a hot well-balanced meal, Salad Tray or Fruit Tray for a cost of $1.50 at Smiley Elementary and Walker Elementary and $1.75 at Long County Middle School and Long County High School. They may also bring their lunch from home; however, NO lunches are allowed to be delivered to campus during the school day.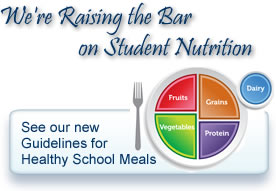 Meals, foods and beverages sold or served at schools meet state and federal requirements which are based on the USDA Dietary Guidelines.
We provide students with access to a variety of affordable and appealing foods that meet the health and nutrition needs of students.