Welcome to Clermont Northeastern Food Service Department!
At Clermont Northeastern Schools, we know that good nutrition and learning go hand in hand!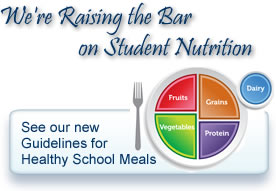 The Nutrition Services department is made up of a team of food and nutrition professionals that are dedicated to students' health, well being and their ability to learn. We support learning by promoting healthy habits for lifelong nutrition and fitness practices.

Meals, foods and beverages sold or served at schools meet state and federal requirements which are based on the USDA Dietary Guidelines. We provide students with access to a variety of affordable and appealing foods that meet the health and nutrition needs of students.
BREAKFAST IS ONLY $.75 FOR ALL PAYING STUDENTS, WE OFFER HOT AND COLD CHOICES. REDUCED BREAKFAST IS ONLY $.30 AND STUDENTS WHO QUALIFY FOR FREE LUNCH GET FREE BREAKFAST .
Healthy changes in Clermont Northeastern School Cafeterias
This fall, Clermont Northeastern school cafeterias are meeting tough new federal nutrition standards for school meals, ensuring that meals are healthy and well-balanced and provide students all the nutrition they need to succeed at school. USDA has changed the format of a school lunch and many of the changes started with the 2012-2013 school year.
In our district, we have already made progress toward meeting the new nutrition standards. We serve fresh fruits and vegetables. We have already made the switch to 1% or fat-free milk. Most of our sandwiches are served on whole wheat bread, and have introduced several new lower sodium entrees.
We will be building on the progress we've made and planning our menus for the 2013-2014 school year to meet the new nutrition guidelines. We'll face some challenges to meet all the new requirements on a tight budget, but our nutrition program will work hard to make these healthy changes for our students.
School meals offer students milk, fruits, vegetables, proteins and grains and they must meet strict limits on saturated fat and portion size. Starting with the 2012-2013 school year, school lunches will meet additional standards, requiring:
Age-appropriate calorie limits

Larger servings of vegetables and fruits (students must take at least one serving of fruit or vegetables daily)

A wider variety of vegetables, including dark green and red/orange vegetables and legumes

Fat-free or 1% milk

More whole grains

Less sodium
We look forward to welcoming the students to the cafeterias this fall. School meals are a great value and huge convenience for busy families. We hope parents will support this effort by encouraging their students to give the healthier meals a try. Students are far more likely to pick up a fruit or vegetable in the lunch line if they have been introduced to those foods at home.
To get the facts about school meals visit www.TrayTalk.org
Help feed our children.
Are you interested in working great hours subbing for our kitchen? Call Terri Hoerth 513-625-1544