Welcome to Food & Nutrition Services!
Welcome to West Central's School Nutrition Program
Now that summer is here so is the Summer Feeding Program for our community. Anyone from age 2 - 18 can eat for FREE
Locations and times are listed here:
West Central Elementary Cafeteria
May 30,31, June 1, 2, 5,6,7,8
Breakfast from 8:30 to 9:00
Lunch from 11:30 to 12:00
Francesville Public Library
June 12,13,14,15,19,20,21,22,26,27,28,29
Lunch from 11:30 to 12:00
Medaryville West Side Community Center
June 13,14,16,20,21,23,27,28,30
Lunch from 1:00 to 1:30
Click on the various links and see what is happening in the Smart Choice Cafe
You can find everything you need right here and if not give us a call or come and join us for lunch or breakfast.
Currently we are accepting applications for one 6 hour position in the elementary kitchen and for substitutes for both kitchens.
Please apply at Central Office if you are interested.
Meal prices for the 2017-18 school year are as follows:
Elementary Breakfast $1.10 Elementary Lunch $1.95 Adult Lunch $3.35/Bk. $1.55
Middle School Breakfast $1.25 Middle School Lunch $2.40 Adult Lunch $3.35/Bk. $1.55
High School Breakfast $1.25 High School Lunch $2.45 Adult Lunch $3.35/Bk. $1.55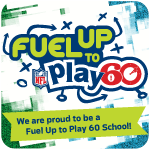 West Central has teamed up with the National Dairy Association and Fuel Up to Play 60 program to bring you all the benefits of eating healthy and getting 60 minutes a day. Click here to view.
West Central's Meal Charge Policy was recently updated to ensure all students get a healthy meal everyday. Check out the policy by clicking here.

The Nutrition Services department is made up of a team of food and nutrition professionals that are dedicated to students' health, well being and their ability to learn. We support learning by promoting healthy habits for lifelong nutrition and fitness practices.

Meals, foods and beverages sold or served at schools meet state and federal requirements which are based on the USDA Dietary Guidelines. We provide students with access to a variety of affordable and appealing foods that meet the health and nutrition needs of students.

Welcome to our brand new Food and Nutrition Services Website full of nutrition education and information and great ways to encourage healthy eating habits in your children! Click here to see healthy recipes your children will love creating with you!
Click on the what's new tab below to see what changes are taking place with the new meals this year.

Click on the Program Info link below to view the meal cost chart.
What every family needs to know!!!!!