Menus
Meals, foods and beverages sold or served at schools meet state and federal requirements based on the USDA Dietary Guidelines. All meals, foods and beverages are prepared and served by qualified child nutrition professionals. We provide students with access to a variety of affordable and appealing foods that meet the health and nutrition needs of students.

* Our menus are planned in accordance with the Dietary Guidelines for Americans.
Nutrition Standards followed in preparing menus:




All menus are analyzed for nutrient content to ensure our nutrition goals are met.

The nutrient profile of new products is studied before consideration in adding items to our menus.

Whole grain and whole wheat bread products are offered to our students daily.

Foods of minimal nutritional value are not available during lunch times.

Low fat cooking methods are used such as baking, broiling and steaming.
---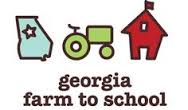 Learn about how Bibb County School Nutrition does Farm to School! Click Here...
---
Select your student's menu from the lists below...