Welcome to Food Services!
Reapply now go to mealapps.bonita.k12.ca.us to apply online

Applications are now being accepted at Food Service Office (located on Monte Vista) and Online see Rocket Scan Link Below to apply. Please allow 2 hours if applying online to pick up your letter of approval.
Hours of applications are 8am-11:30am lunch 1pm - 3:30pm
Click Here To Follow Us On Twitter
Good nutrition and learning go hand in hand!

The Nutrition Services department is made up of a team of food and nutrition professionals that are dedicated to students' health, well being and their ability to learn. We support learning by promoting healthy habits for lifelong nutrition and fitness practices.

Meals, foods and beverages sold or served at schools meet state and federal requirements which are based on the USDA Dietary Guidelines. We provide students with access to a variety of affordable and appealing foods that meet the health and nutrition needs of students.
For the most rapid processing of your Free & Reduced Meal Application, please apply online on by clicking below on Rocket Tech!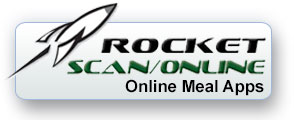 You may apply for Free & Reduced Meal Benefits online any time!
Please allow 2 hour for processing before coming to office to pick up approval letter.


Office Application hours are from 8 a.m. - 11:30 p.m. - 1:30pm - 3:30pm

We are located at:
125 West Allen just west of the District Office.
Paper Applications can be found at school sites or Food Service Office.