Menus
Meals, foods and beverages sold or served at schools meet state and federal requirements based on the USDA Dietary Guidelines. All meals, foods and beverages are prepared and served by qualified child nutrition professionals. We provide students with access to a variety of affordable and appealing foods that meet the health and nutrition needs of students.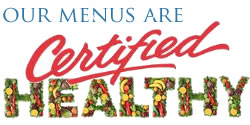 Certified with Highest Standards for Nutritious School Meals!

Pinedale's Nutrition Service Team has made a significant investment in improving the quality of school meals. Key enhancements include an increase in the availability of fruits, vegetables, whole grains, and fat-free and low-fat fluid milk in our meals. We also have reduced levels of sodium, saturated fat and eliminated added trans fat in meals.
School Meal Prices
| | Elem | Middle | High | Adult |
| --- | --- | --- | --- | --- |
| Breakfast | $ 1.60 | $ 1.85 | $ 1.85 | $ 2.50 |
| Reduced Price Breakfast | $ 0.30 | $ 0.30 | $ 0.30 | |
| Each extra Breakfast Item | $1.00 | $ 1.00 | $ 1.00 | |
| Lunch | $ 2.65 | $ 2.90 | $ 2.90 | $ 5.00 |
| Reduced Price Lunch | $ 0.40 | $ 0.40 | $ 0.40 | |
School Lunch Savings Add Real Value: Bag Lunch vs. Buying a School Lunch
Did you Know! Hormone Free Milk Offered Daily: Hormone Free Certification

White Milk - 1% Chocolate Milk - Fat-Free
Start the Day with a Nutritious "Grab-n-Go" Breakfast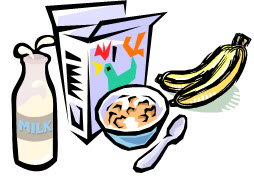 $1.60 for Elementary and $1.85 for Middle and High School
Breakfast Serving Times in the Cafeteria:
Elementary School Cafeteria - 7:45 - 8:10
Middle School Cafeteria - 7:35 - 7:43
Highs School Commons Area - 7:15 - 7:45 Breakfast Kiosk
Make sure you are "Ready to Learn" - Start your Day with a Good Breakfast!
Breakfast Menus Offerings will vary from day to day and will include student's choice of three of the following types of items: (see actual menus below)
Bowl-Pak Cereals, Oatmeal, Muffins, Bagels, Cereal/Granola Bars, Fresh and Canned Fruit, Yogurt, String Cheese, Boiled Eggs or Scrambled Egg Patties, Hot Meal Offerings several times a week, (Waffles, Pancakes,Breakfast Burritos, Omlets, French Toast, Scrambled Eggs) Juice and Milk.
**Extra Breakfast items cost $1.00 each.
All Students must take a fruit and may decline no more than 1 breakfast item.
They are welcome to take all items offered for the same low price.
Additional Al a carte and Smart Snack offerings will be available to purchase if middle and high school students are still hungry.
If Your Child has Food Allergies…….
Medical Statements to Request Special Meal Accommodations must be completed by a physician and filed in the Nutrition Office in order for us to make proper meal substitutions! A new form is required each year! Forms are available in the school office, the Nurse's Office or Nutrition Office or by clicking here for instructions & the form!
NOTE: You must meet with us so we know how to best meet the needs of your student! Call to make an appointment today! 367-2447
** Menu subject to change due to availability of certain foods.
We have a School Meal Charge Policy limiting meal charges. Once the meal balance reaches the limit parents will be expected to provide a lunch from home until the lunch balance has been paid in full. We are happy to work with you, please contact the Food Service Office to make payment arrangements at 367-2447.
Click arrows to scroll through months

Nutrition Info

In the News.pdf
Students Must Take.pdf
Wonderful News from Team Nutrition!.pdf