Welcome to Nutrition Services!
Good nutrition and learning go hand in hand.

The Nutrition Services department is made up of a team of food and nutrition professionals that are dedicated to students' health, well being and their ability to learn. We support learning by promoting healthy habits for lifelong nutrition and fitness practices.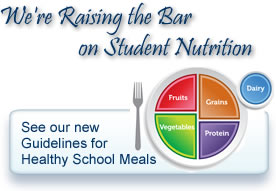 Meals, foods and beverages sold or served at schools meet state and federal requirements which are based on the USDA Dietary Guidelines.
We provide students with access to a variety of affordable and appealing foods that meet the health and nutrition needs of students.
Federal Regulation Information for School Meals
_______________________________________________________________________________
Attention Parents and Staff...
Please try to go "Cashless" at School Sites for faster meal service for our students. If you are making a payment by check we only accept blue or black ink.
For your convenience save time and make payments online...click MySchoolBucks to make prepayments online!
We

do not

allow charging of meals at any of our school sites-please make sure your child has lunch or lunch money everyday.
If you are using myschoolbucks -you can easily monitor and have emails sent to you when your child's meal account reaches a certain dollar amount.
_______________________________________________
Last years lunch applications expire after the first 30 days of school
OR

until we process your new application.
APPLY FOR MEAL BENEFITS ONLINE FOR FASTER PROCESSING! ONLY ENTER

ONE APPLICATION

PER HOUSEHOLD.
*For the 2016-2017 school year you may apply

AFTER

July 1st.
We are pleased to announce the ability to apply for Free and Reduced Priced Meals online! The process is SAFE, SECURE, PRIVATE, and AVAILABLE anytime, anywhere! To see if you qualify for CalFresh formally known as food stamps you can go to www.benefitscal.org.
___________________________________________________________________
***Are you looking for Part-Time work?***
______________________________________________


___________________________________________________________________