Menus
Meals, foods and beverages sold or served at schools meet state and federal requirements based on the USDA Dietary Guidelines. All meals, foods and beverages are prepared and served by qualified child nutrition professionals. We provide students with access to a variety of affordable and appealing foods that meet the health and nutrition needs of students.
Baldwin School Nutrition is pleased to serve Domino's Smart Slice Pizza!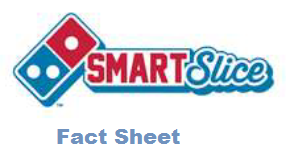 The Smart Slice recipe meets all USDA requirements and then some! Low fat cheese, low sodium sauce, 51% whole grain dough and low fat pepperoni are but a few of the healthy components to each tasty slice! Students and faculty will enjoy fresh, hot pizza delivered to each school. Please check each schools web site under the menu tab to see what day Domino's will be served to your school. Extra slices for a la carte sales at $2.00 each.