Menus
Meal Prices

Elementary

Secondary

Breakfast - Full

$1.50

$1.75

Breakfast - Reduced

No Charge

No Charge

Lunch - Full

$2.75

$3.00

Lunch - K-5 (Reduced)

Grades K-5 No charge

Lunch (Reduced)

$0.40

Individual Milk, Juice, or Water - $.50 each
Sometimes charging of meals can quickly add up. St Vrain Schools does not pull trays from elementary school children if they come through the cafeteria line and don't have funds in their account. The cashiers allows the student to take the tray and will not take the tray away from the student. This is very embarrassing to the student and causes a very stressful situation in the cafeteria. Reminders of balances of money owed are sent home weekly and calls are made when account balances get over $10.00. Parents need to respond to these memos before accounts get to high. If parents don't want their students to charge a meal then let us know and we can manage that at the school. Otherwise parents will be responsible for any charges on their student's account until the balance is paid off.
Also at any time parents may complete a free and reduced meal application during the school year at myschoolapps.com or contact Shelly Allen at 303-682-7255 if you have questions about this process.
Want to view Nutritional Information for our Menu Items?
To view nutritional information for our menu items, use our Interactive Nutritional Feature below!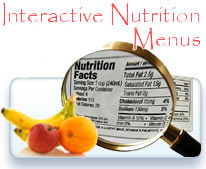 1. Click the dropdown to "Select Site"
2. Choose St. Vrain

3. Click "Display" and begin selecting menu items whose nutritionals you would like to view
4. Click "View Nutrition Values" to see each item's nutritional information!