Going Green Pledge!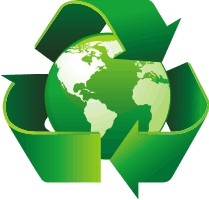 Growing Green ~ Living Healthy
We invite you to join your children's efforts at home on Earth Day, April 22nd! We'll be encouraging them to REDUCE! the amount of packaging, paper and disposable products they use at school and at home!
The Food Service Department at Lodi Unified wants what's best for 'our' kids - your kids. Helping them grow up healthy means looking towards their future. To us, that doesn't stop with the nutritious food we serve in the cafeterias or with teaching them to make healthy choices. It means making responsible choices that will provide for the future of our planet and the future of our children.
Among our efforts to reduce our impact on our environment the Food Service Department has:
Replaced ovens, ice machines, milk boxes, dishwashers and refrigerators and hot hold boxes with energy saving models.
Most of these models have earned the ENERGY STAR© label. All of them have been qualified as Energy Efficient by PG&E. Our dishwashers use water saving 2 minute cycles. Our pre-rinse hoses use controlled PSI. A lot of our dishes are washed in 3 compartment sinks, eliminating chances to use more water than is needed. The new model ovens use almost 50% less gas than the older models. Any time
we change a piece of equipment we consider the environmental impact of the replacement.
Replaced Styrofoam trays at all of our secondary schools and some transport sites with biodegradable paper trays.
Learn more about how Westwood Elementary Goes Green.
District wide- this has eliminated 11,000 Styrofoam trays a day from the landfills. We are constantly looking for alternative trays. There is a very promising biodegradable tray made from sugar cane pulp.
It makes an excellent fertilizer after it has been used. Funding an additional 8-10 cents per tray is difficult in these times of economic trouble and budget cuts. This is high on our priority list if we can find a financially viable supplier without sacrificing your children's nutrition. Arranged for a local co-op Food 4 Thought, to distribute local, farm fresh produce to be delivered to our children.
Many farmers cannot sell smaller sized produce for first-rate prices. These smaller sized fruits and vegetables are perfectly pre-portioned for children. This is a situation where everyone wins! Our children get fresh local fruits and vegetables. Local farmers sell product that might have otherwise gone to waste. The cafeteria saves time preparing food. The Food Service Department saves money by purchasing the produce locally through the co-op. We have access to fresh fruits and vegetables that are not always available through bigger suppliers. Purchasing local produce cuts back on global warming impacts associated with transporting food long distances.
As we continue on with our journey of being an environmentally friendly operation we invite suggestions that will help us get there sooner. Thank you for your part in helping grow a greener generation!