Nutrition Newsletters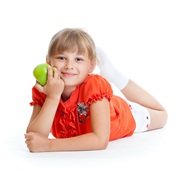 Nutrition Nuggets Newsletters
Nutrition Nuggets is a newsletter that "provides busy parents with practical ways to promote healthy nutrition and physical activity for their children." Nutrition Nuggets is reviewed by a registered dietitian. Consult a physician before beginning any major change in diet or exercise.
FitFuture Newsletters

FitFuture is a series of newsletters that deals with fitness and nutrition for families while providing "strategies for better living."
20 Healthy 100 Calorie Snacks
Addressing Your Child's BMI Report
Avoid Food Waste and Save Money
A Week-at-a-Glance: Seven Days of Healthy Family Fun
Balancing Meals for Children and Visualizing Portion Size
BMI Report Card
Childhood Obesity: Advice to Parents
Eating Well Together
Getting Your Child Involved in Sports and Other Activities
Happy Children
Help Your Child Develop a Healthy Body Image
Ingredients for Healthier Home-Cooked Meals
Kids Party Foods: Get a Healthy Make-Over