Carroll County Schools Participate in the following Healthy Programs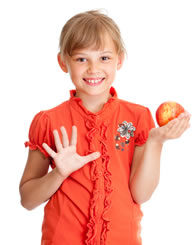 National School Lunch Program - was brought about in 1946 as a "measure of National Security to safeguard the health and well-being of the nation's children." The program aims to provide nutritious food to school aged children. Meals must meet federal nutrition guidelines such access to a balanced, nutritious lunch that includes whole grains, fruits, vegetables and milk. Studies show that eating a nutritious lunch leads to improved academic performace, concentration and fewer behavioral problems. Participation in the program can assist in developing good eating habits.
School Breakfast Program - was created as a part of the Children Nutrition Act of 1966. Eating breakfast can help improve math, reading, and standardized test scores.Children who eat breakfast are more likely to behave better in school and get along with their peers than those who do not. By eating breakfast, students get more of important nutrients, vitamins and minerals such as calcium, dietary fiber, folate and protein.
Summer Feeding Program - operates during the months of June and July. The Summer Food Service Program is designed to fill that nutrition gap and make sure children can get the nutritious meals they need.
After School Program - offered at three of the schools. After-school programs provide safe, structured activities that convene on a regular basis in the after-school hours and offer children opportunities to learn new skills. These programs have been shown to improve academic achievement, as well as relieve the stresses on working families. It also give students an opportunity to eat a healthy snack after school.