Myth of School Meals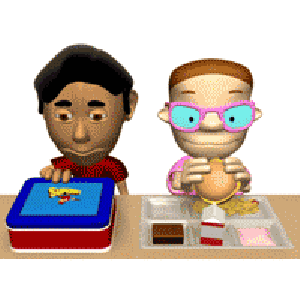 The Myth of School Meals
There are basically two types of foods offered in schools during the school day:
Meals served through the federally-funded USDA National School Lunch and Breakfast Programs
All other foods typically served through vending machines, á la carte choices, fundraisers, class parties, etc. – these foods are known as "competitive foods" because they compete with school meals
Myth: School meals make children obese.
Fact: Students who eat meals served through the National School Lunch Program are more likely to be at a healthy weight.
Myth: Schools serve junk food for school lunch.
Fact: Meals served under the National School Lunch Program must, by federal law, meet nutrition guidelines based on the Dietary Guidelines for Americans. No more than 30% of calories can come from fat and less than 10% from saturated fat. School lunches provide one-third of the Recommended Dietary Allowances of protein, vitamin A, vitamin C, iron, calcium and calories.
Myth: Schools don't serve enough fruits or vegetables for lunch.
Fact: In North Carolina, 96 percent of schools have increased fresh fruit and 86 percent of schools have increased fresh vegetables. There are usually a number of fruit and vegetables selections available each day. These may be canned, frozen, fresh or dried. There is an emphasis on dark green, deep yellow or orange fruits or vegetables, and items that are not fried. More legumes (dried peas and beans) are also being introduced.
Myth: Schools serve fried, greasy foods.
Fact: Schools may serve French fries, chicken nuggets or pizza at times. However, because the meals are required to meet the Dietary Guidelines for Americans, they will be lower in fat and saturated fat. Foods are often baked, not fried, made with low-fat or lean ingredients, and served with vegetables, fruit and other options that make each meal balanced and nutritious. In fact, 76 percent of North Carolina schools have eliminated fried foods.
Myth: Sack lunches from home are better than school meals.
Fact: Research shows that students who eat school lunch eat less fat than students who bring their lunch from home. Students who eat school lunch eat more fruits, vegetables and drink more milk. They are less likely to drink soda and fruit drinks.
Myth: Only junk food is available through à la carte lines and vending machines.
Fact: While there are few federal nutrition standards for à la carte and vended foods and beverages, there have been significant changes in à la carte offerings in North Carolina elementary schools. Many of the items offered are lower in fat, sugar and sodium and are offered in portion sizes that are appropriate for children. In addition, North Carolina passed a law in 2005 that prohibits vending machines in
Elementary schools.
Students Succeed with School Meals Developed by the N.C. Division of Public Health with funding from Child Nutrition Services, N.C. Department of Public Instruction